Spectrum FM Presents Woolley & Co 
Ending a relationship is hard. Divorce doesn't have to be. Even if you're only thinking about divorce at this stage, it pays to know what's involved and understand your legal position. Get discreet divorce advice from English family law specialists Woolley & Co, Solicitors.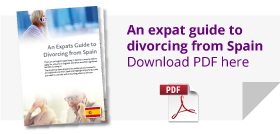 If you are originally from England or Wales but now live in Spain you may be able to divorce in England. Using the English courts is often quicker, cheaper and less complicated than divorce through the Spanish courts.
International divorce specialists
Woolley & Co, Solicitors are based in the UK but are experienced in international divorce and normally able to handle your whole case without you needing to return to the UK.
Discretion guaranteed
For confidential legal advice from an approachable, trusted divorce lawyer call Woolley & Co, Solicitors on (+34) 9511 20555. 
Call us today on (+34) 9511 20555