TWIST & SHOUT – Benidorm Palace, November 18th
Benidorm Palace [Alicante]
---
Event info
| | |
| --- | --- |
| Date: | November 18, 2018 |
| Time: | 20:30 |
| Location: | Benidorm Palace |
| Address: | Avenida Dr. Severo Ochoa, 13, Benidorm Alicante |
| Phone: | +34 96 585 16 60 |
Details
TWIST & SHOUT – The Show – Benidorm Palace, November 18th
If you are a child of the 50s or 60s, you are going to love this show, which brings the greatest musical era of the 20th century to life. Join this nostalgic and fun packed musical journey through the sights and sounds of the swinging 60s, that time when skirts became shorter and hair got longer!
You'll be able to sing and dance along with a cast of leading performers to the music of the favourites of the 60s:  The Beatles, Hermans Hermits, Gerry & The Pacemakers, The Rolling Stones, Cilla Black, Manfred Mann, Dusty Springfield, Lulu, Sandy Shaw and many more.
This musical powerhouse of a show starts with the explosion of Brit Pop in 1962 through to the era of Flower Power and Free Love of the late sixties.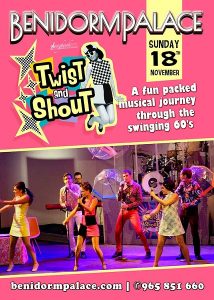 Featuring incredible performances and beautiful bespoke costumes, Twist & Shout will transport you back to the sights and sounds of the Swinging Sixties.
A non-stop feast of music featuring a live band and leading performers who will deliver a magnificent musical show that includes hits such as; She Loves You, Glad All Over, You're My World, Jumpin Jack Flash, Something Tells Me I'm Into Something Good, Shout, Mr Tambourine Man, Ferry Cross The Mersey… and so many more.
This show will have you on your feet and dancing in the aisles!
---
Location
Buy tickets